If your website isn't indexed on Google, does it even exist?
For your website to be visible on search engine result page, it first needs to be indexed on Google. In this article, I'll show you how to get your website indexed on Google quickly and what to avoid.
Let's understand what does getting indexed on Google mean?
Let's first go through a brief background of Google's indexing process.
Google's index is same as any book that has an index at the end where you can find the terms with the page number where you can find that term in the book. Just like all those words in a Book's index exist, Google's index contains a massive number of pages, from where Google chooses the best ones as soon as a user makes a search query.
With this intensity of dynamically changing content, Google carries out a constant process of discovering, indexing and finally ranking the content.
Here is a 3 minutes video I have created on the process of getting indexed on Google and ranked.
Google typically examines all the links and webpages on the world wide web, categorizes them in some order, and puts them in front of you when you search for something. Understanding how this works can help your business.
To get your site indexed on Google, below are the three stages it goes through:
Crawling- How search engines find pages
Indexing- What search engines do with the web pages they find
Ranking- How they decide what to show on search results pages.
How to check if your website is indexed on Google?
There are so many ways you can check if your website has been indexed on google, or you're still stuck in the initial phase of crawling.
Google Search Console
As a first step, you should create a Google search console account and register your domain on the platform. Here is a quick video I have created on the basics of Google search console and getting indexed on google.
Refer to Google Search Console's Index Coverage Report to get an overview of your website's indexing status. This report will provide you with the feedback on your website's crawling and indexing processes.
The report returns four kinds of statuses:
Valid: this means that the pages you've entered are indexed on Google correctly.
Valid with warnings: this is self explanatory- the pages you entered are indexed on Google, however you may need to check out the issues.
Excluded: sometimes there are some signals that tells Google not to index the pages.
Error: for whatever reasons, Google could not index these pages
Here's an example of what an Index Coverage report for a large website looks like:
While the Index Coverage report gives you a quick overview of your site's index status, google search console's URL inspection tool lets you analyze individual pages. Check your URL in Google Search Console
Go to Google Search Console.
Choose your website property .
Enter a website URL for checking.
Next, you'll see something like this:
In case you get an error saying that the URL isn't indexed on google yet, you can click on "request indexing" on the same page.
Examine URL's cache
See if your website has a cache version on Google. Simply type cache:https://abc.com to see if your URL has been indexed or not. If you find a result, then it is indexed on google.
It's not a go to method or a full proof way of knowing if your website is indexed on google or not. This is because at times, you may come across a cached webpage, even though in real it has been removed from Google indexing.
Browseo
Another way to confirm if your web page has been indexed on google is by verifying it on Browseo. Simply enter your website on the searchbox and check to see if it renders any result. Ideally it should return the below result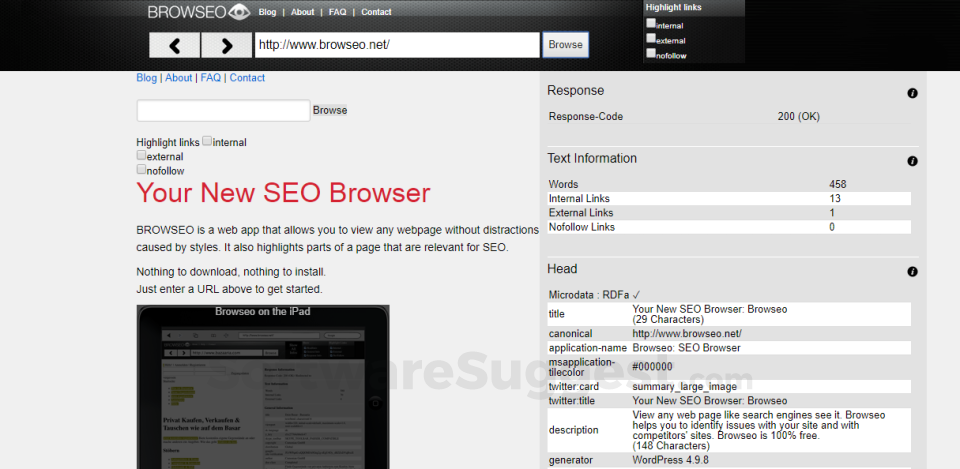 Look for the exact title on Google search
Simply try to find your page by inputting your page's title to see if it's indexed on Google. You can do this by placing the name of your title in quote while searching on Google. Alternatively, to see if a page is indexed on Google, you can search for the exact page title by putting it in between quotes ("Your title"),
Another way is site: queries
Another potential way you could confirm if your page is indexed on Google or not if by inputting site: query for the webpage. For instance, You can also check out if your page is indexed on Google by using the site:https://www.marketingwithaarohi.com query for the pillar page. This could also show you if your page has been indexed on Google.  
Just like the cache method, this process can't be trusted. There are few of my pages that are currently getting ranked on google, however they don't show up on site: queries.
Fastest way to get your website indexed on google
This is what you came for right? Well, to get your website indexed on google in the fastest way possible, you firstly need to get rid of any issues that would stop you from getting indexed on google.
The second step would be to make your content discoverable by Google. Remember that you solve a searcher's problems with their search queries.
Third and final step is to get relevant backlinks for your content. Make highly sharable content so that people could talk about it on social channels.
1. Robots directives
One of the most common issue is robots no index directive that prevents Google from indexing your content. Even though this direct potentially protects you with duplicate content problems, it may also send Google a signal that certain pages don't need to be indexed on Google.
The HTML sourcecode on your website ,  may look like below:
<meta name="robots" content="noindex,follow" />.
Make sure to do this only for pages you strictly don't want to be indexed on google, and if a page you do want to be indexed has issues, make sure to check of noindex direct insn't activated.
2. Canonical tags
Even-though canonical tags may not be a good enough signal as meta robots direct, at times, the incorrect use of canonical tags may lead to non indexing issues. Make sure to avoid this.
3. Allow content you want to get indexed on Google
As you know, the robots.txt  is a crucial file that sends signs to all search engines, including Google about your website's capability of crawlability . You could set it to signal google to ignore some aspect of your website. Essentially, make sure the websites you want to get indexed on Google is not set to 'disallowed' in robots.txt.
4. Preventing crawler traps
Sometimes, there are structural issues within a website that can lead to crawlers getting lost. The crawlers would find infinite number of irrelevant links on your site, and this phenomenon is called crawler traps. Make sure you avoid the crawler trap which would prevent you from getting indexed on google.
5. XML sitemap
After making sure that your website has no roadblocks, it'll be easier for Google to discover your website. XML sitemaps are a great way for google to know about your website's overall structure.
Whenever you publish a new content on your make sure, make sure the sitemap is updated with the new structure automatically. In order to do this quickly, manually submit your site's XMP sitemap to Google search console yourself by followng the steps below:
Go to Google Search Console and select your website property.
Select Sitemaps under Index on the left-hand side menu option.
Submit the XML Sitemap URL, which typically looks like this: https://www.xyz.com/sitemap.xml
Once you submit your sitemap here, Google will make sure to check this regularly for new discovery, crawling and ranking.
If you want to get your website indexed on Google faster, make sure you always check your website on google search console and then accordingly submit the XML sitemap.
The key point to remember here is that you need to always keep a track of your XML site map. The sitemap should always have all your website pages and links that you want to get indexed on Google.
6. Submit your links to Google Search Console manually
Even-though Google's ultimate job is to crawl, and index your new or updated pages on its own, its still a good idea to give it a push by submitting URLs into Google Search Console. This process will increase the speed of your ranking process.
You can manually enter your page URLs in Google Search Console's URL inspector:
Go to Google Search Console and select your property (website)
Enter the website URL
Check if the URL is indexed on Google by selecting the TEST LIVE URL button.
If its not indexed on Google, then go for the REQUEST INDEXING button.
Follow the same process for all those pages that link to this page you want to get indexed on Google.
7. Google My Business
Alternatively, you could even submit a post via Google my business. Google my business tool pushes Google further to crawl and index the pages that you've added there. Make sure the post you add will be visible on Google my business panel for the branded searches.
Go to Google My Business
Select the location that you would want to submit a post for.
You could add a picture and write a copy here , write in your website URL in the "Link for your button" field and select publish.
Follow the same process for all the pages that link to the website you want indexed on Google.
Conclusion
Getting your website indexed on Google could be challenging. You will have to go through a lot of hard work- most of it would be manually. With all the new updates and constant algorithm changes, it's getting harder and harder to get your website indexed on Google.
However, with a proper plan, you could get the most important pages indexed on Google and enhance your SEO with high rankings.